Monsignor Pope is the author of two books
---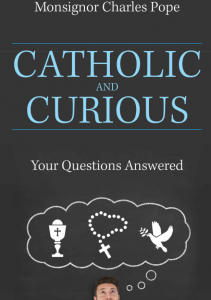 In Catholic and Curious: Your Questions Answered, Monsignor Charles Pope tackles 500 tough questions on just about every subject imaginable. In easily digestible question and answer format, this book covers everything from God and the Bible to the liturgy, the sacraments, Catholic moral teaching, Mary, the saints, and life after death, all organized by topic for quick reference. In this book you'll find not just straightforward answers, but a deeper understanding and appreciation of the truth of the Catholic Faith.
pages: 512
ISBN: 1681921588
The Ten Commandments by Monsignor Charles Pope is a powerful, in-depth investigation into the Decalogue. Msgr. Pope explores the Ten Commandments, illuminating their eternal importance to the spiritual life while relating them to our modern day-to-day struggles.
The Ten Commandments offers both insight into the moral law of God and an opportunity for deep spiritual introspection. Also included are several examens to help you perform a prayerful examination of conscience. (TAN Books)
Pages: 120
ISBN: 9781618906298
Publisher: Saint Benedict Press, LLC
---
COMING SOON 501 Questions and Answers on the Catholic Faith by Monsignor Charles Pope
— OSV Publications.